Travel and accommodation
UCSB is a familiar venue for cryptographers, since Crypto is at UCSB every year. Almost all Crypto participants stay in the same place, namely the UCSB dormitories: Anacapa Hall if you sign up early, adjacent Santa Rosa Hall if you sign up late. You should come to Santa Rosa to pick up your keys even if you're assigned to Anacapa. (In occasional years Anacapa is closed for dormitory renovations, but it's open this year.) There is a combined housing-signup page for Crypto 2014, the SHA-3 2014 Workshop, and DIAC 2014. Attendees are encouraged to register and sign up for housing as early as possible.
This housing also comes with food at the UCSB dining hall, De La Guerra (or nearby Ortega if De La Guerra is closed for some reason). The standard housing package for DIAC 2014 includes dinner on Friday 22 August, housing Friday night, breakfast on Saturday 23 August, lunch on Saturday, dinner on Saturday, housing Saturday night, breakfast on Sunday 24 August, and lunch on Sunday. It will also be possible to sign up for an extended housing package that includes dinner on Sunday, housing Sunday night, and breakfast Monday morning.
The food in De La Guerra is buffet style, offering many options (see the menu), and the overall food quality isn't bad. The overall price for food and housing is reasonable. There is a slight discount if you sign up for a double room, i.e., two people sharing a single-size room.
The dormitories are under 10 minutes walk from De La Guerra. Campbell Hall, the standard Crypto lecture room, is about a 10-minute walk from De La Guerra, and about a 10-minute walk straight from the dormitories. The Crypto rump session takes place in the Corwin Pavilion at the University Center, which is under 5 minutes walk from De La Guerra. DIAC 2014 will also take place in the University Center.
The positive side of having everyone eat and sleep on campus is that conferences at UCSB provide many, many, many more contact hours than typical conferences. The negative side is that the dormitories are rather spartan, and you might find them a bit shocking if you have no experience with typical American dorms and are expecting hotel-type facilities. Your room won't have a telephone, or a television, or a hair dryer, or any running water. It will have an adequate desk, power plugs, an Ethernet plug, wireless Internet, a window providing fresh air, and every day a fresh towel that you can take down the hall to a bathroom shared by about 20 people (but usually not all of them are in there). To minimize walking, women (and couples) are assigned rooms close to women's bathrooms, while men are assigned rooms close to men's bathrooms. Each bathroom has several toilet stalls and several showers. There are at least two different types of showers: the common type has an American-style immobile shower head and a shampoo/soap dispenser on the walls, while the "handicapped" type has a flexible hose to a hand-held shower head but is missing the shampoo/soap dispenser.
At last report the Anacapa lobby had a pool table (ask the reception desk for balls), a ping-pong table (same), a vending machine, an arcade game, and a TV. It's two minutes walk from a stunning beach view. The building also has laundry facilities.
Flights
The Santa Barbara airport (SBA) is small. Most attendees from outside California will fly to a larger airport such as Los Angeles (LAX) or San Francisco (SFO), and then catch a short flight to Santa Barbara.
UCSB offers a free airport shuttle for participants staying at the dorms. Once you've retrieved your bags, you should call the dorm reception (+1-805-893-2189; copy this number into your mobile phone in advance!) and ask them to send the shuttle. The shuttle is a white van marked UCSB. You won't have to wait long: the shuttle seats several people; the round trip for the shuttle is only 10 minutes; sometimes there are two or three shuttles operating at once.
Officially UCSB's shuttle operates only until 22:00. If you call the dorm reception and they say that the shuttle is no longer operating, you'll have to find another way to campus. The SuperRide shuttle used to be +1-805-683-9636 but is rumored to be out of business.
Maps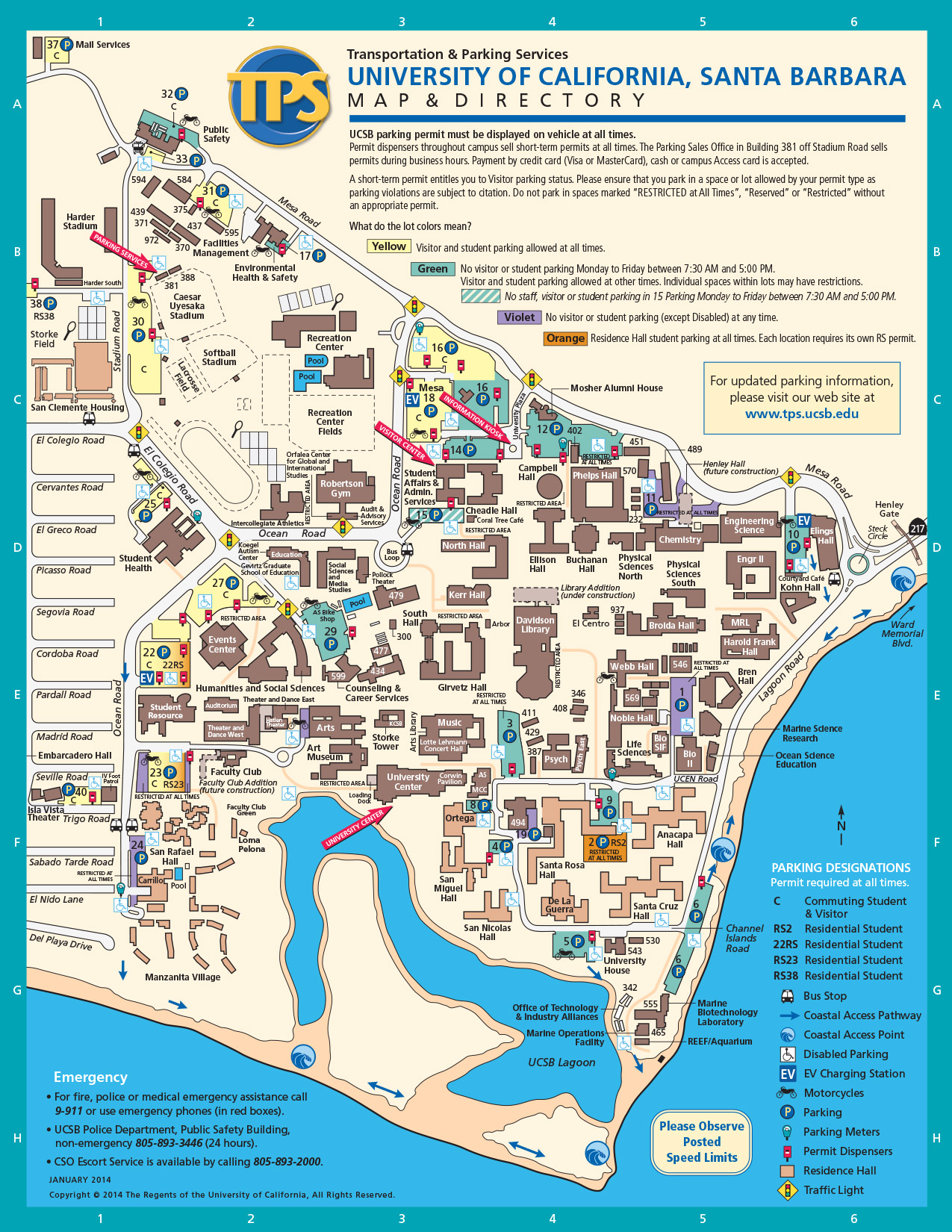 There are several locations of interest on the UCSB campus:
"Top": Campbell Auditorium. Crypto talks, except for the rump session. On the campus map (or the official version), look for the red arrow saying "Information kiosk"; Campbell is the circular building slightly down and to the right.
"Bottom left": Corwin Pavilion, the adjacent Lagoon Plaza, and the nearby Storke Plaza. Crypto rump session and DIAC 2014 talks. On the map, look for the red arrow saying "University Center"; Corwin is part of the University Center, Lagoon Plaza is the empty area below the University Center, and Storke Plaza is the empty area above the University Center.
"Bottom middle": De La Guerra Dining Commons. Starting from Corwin on the map, look down and to the right.
"Bottom right": Anacapa and Santa Rosa. These are the dormitories where almost everybody sleeps. This is also the center of social activity, including the Sunday Crypto dinner and the Monday Crypto dinner. Starting from Corwin on the map, look to the right.
"Far right": The beach. Crypto beach barbecue. This is off the map to the right, about a 20-minute walk.
For international travelers: Visas
If you're willing to give visa officials a bribe (officially called "expedited service"; perfectly legal, of course) then most countries will be happy to issue you a visa in a reasonable amount of time, at most a few weeks. The United States is different. If you need a visa, and you don't have one yet, you're screwed. If you spend weeks calling the United States visa officials and repeatedly explaining to them that time is running out before a flight on the 15th, then at best you'll convince them to issue you a visa on, say, the 25th.
If your country is on very good terms with the United States, you can enter the United States on a "visa waiver"; but you must fill out an online form in advance. The official recommendation is to fill out this form at least 72 hours in advance. This is not a hard deadline, and if you fill out the form at the departure airport then it might be approved instantly; but it might not, and you might be denied boarding.
Let's say you get past these obstacles and arrive in the United States. Expect very long, very slow lines at immigration. The official United States policy is that paying an idle immigration officer is a disaster, while having the tired and hungry wait on line for an hour or two is just fine, as long as they're foreigners. Eventually you'll reach an immigration officer and, in exchange for being allowed to enter the country, you'll turn over the usual pile of information, including biometrics (photo and 10 fingerprints) collected at the immigration booth. Don't panic if the immigration officer asks you questions like "Why do you have a Chinese visa in your passport?"; simply answer the questions, honestly and politely.
After immigration you'll find an empty luggage belt. You might be worried that someone walked off with your luggage a long time ago. Relax: the airline won't have bothered delivering your luggage yet. You'll now wait for your luggage while hoping that the drug-sniffing dogs don't notice the smell of airline food on your breath. Finally you'll pass through some doors into the land of hope and freedom.
Special note regarding mobile phones: Most (all?) American airports will allow you to use your phone after the plane touches down. However, you're not allowed to touch the phone after you leave the plane, or while you're on line at immigration, or while you're waiting for your luggage.
Special note regarding transfers: If you fly internationally to the United States and then connect to another flight, you will have to clear immigration and customs at the first airport, and you will have to pick up your bag at the first airport (after immigration and before customs), even if the bag has been checked through to the second airport. There are a few exceptions to this rule, but airline agents outside the United States who don't tell you this rule are practically always ignorant of the rule rather than being aware of an exception. Furthermore, if you fly to Canada and then connect to a flight to the United States, you will have to clear United States immigration at the Canadian airport, pick up your bag, clear United States customs, and re-check your bag, before boarding the flight to the United States.
---
Version: This is version 2014.08.17 of the travel.html web page.